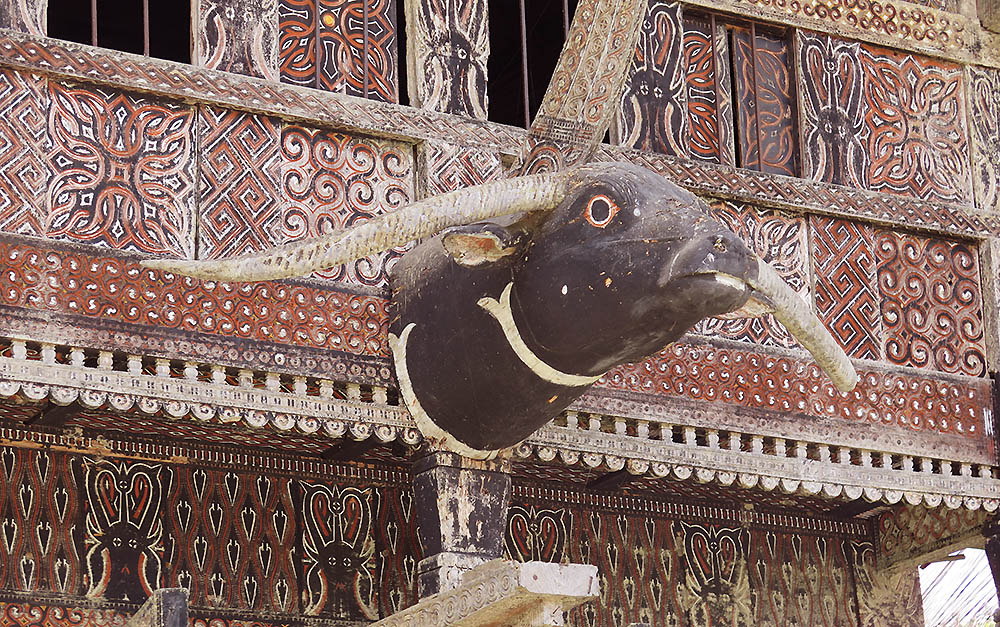 This website was built by David McComb, a journalist and writer from the UK.
David spent a glorious week in Toraja in January 2015 – and as Daud made sure his trip was perfect, he created this website to say thank you.
You can read David's reviews TripAdvisor, which include pieces on some of Rantepao's finest attractions. Below is selection of testimonials Daud has received in recent months.
"Daud is an amazing guide! He is extremely knowledgable and speaks excellent English and French (in addition to his native Torajan and Bahasa Indonesian languages, and probably others I don't even know about). I was only planning on traveling with him for a few days in Tana Toraja, and ended up asking him to be my guide for my entire trip through Sulawesi – enough said! His ability to answer any question, help me get to know local people/culture, and highlight amazing sites made my trip incredibly special." Amy Windom, Atlanta Georgia, USA

"I hired Daud as a guide for a four-hour trek up to Butatamonga through the foresty area and down through the ricefields. He was very patient, speaks English well and and helped me negotiate rough patches. Stillness and calm in the vortex of beauty and danger are the hallmarks of a good guide. This trek, revolved around beauty. I feel confident, however, that he would also be excellent in more dangerous situations." Dr. Toke Hoppenbrouwers, Calabasas, CA, USA

"When we first arrived in Rantepao, we encountered guides that were aggressive and pushy and made us feel like we were walking dollars bills. Luckily we met Daud. We knew right away that he was a real 'people person' and that we could truly get along with him. We were absolutely right. Above all, he made us feel welcomed in the Toraja area. He has an easy-going personality, well-informed style of guiding, and his good nature made it possible for us to throughly enjoy our time in Tana Toraja. We feel lucky to have met not only an excellent guide but wonderful person. We can only hope that many, many others have the chance to meet and experience a trip around Tana Toraja with Daud Rapa." Lance and Deborah, USA and Taiwan

"Daud was our guide in Tana Toraja, Sulawesi and the Baliem valley in Papua, Indonesia, in October 2007. We appreciated him very much. He was courteous, sympathetic and always in a good mood. He is interesting and knows all about the Torajan culture. In Papua, he has good connections. He adapted well to our choices and abilities. Merci pour tout, Daud!" Marc-Andre Domingue and Francine Laurendeau, Terrebonne, Quebec, Canada
"Knowledgeable and highly entertaining, Daud gave us an amazing two-day tour around the Toraja region. Whether walking through rice paddies, gazing at formidable panoramas or observing locals customs, Daud provided an inexhaustable supply of local knowledge always delivered in impeccable English. Throughout our time together, Daud brought history, legend and even funerals to life. I cannot recommend him enough. Thank you Daud, and until next time, goodbye." Neil and Antonia, UK and Jakarta
"The wealth of knowledge and understanding of the Torajan culture and history that Daud has is nearly overwhelming, added to that his understanding of the Western mind is nearly equally impressive. Being an American and having limited knowledge of Indonesia, I appreciated Daud's easy to understand introduction to Toraja. From tau tau to spirit houses to even basic farming practices, I feel a much deeper understanding of this mysterious land and its rich heritage and folklore. Toraja will forever live in my mind as a place embracing life and community." Peter Roth, USA
"Daud's hospitality and kindness demonstrated more about the Torajan culture than I could have expected from a tour guide. I learned a lot and felt a deep respect for the heritage of this land." Sarah Roth, USA
"A friend and I spent the day at a funeral procession with Daud as our guide. From the beginning, I was impressed with his extensive knowledge of the regional culture. As he explained to us the intricacies of the procession, I noticed that other tourists were listening in, as their guides were not as educated on the subject. Additionally, he provided for us the opportunity to truly take part in the ceremonies, as we sat and chatted with locals while sharing tuak (palm wine) and feasting on babi (pork) cooked to perfection in bamboo tubes. His ability to translate ideas from Torajan to English was excellent, he was always smiling, and made it clear that our satisfaction was his number one concern. Thanks again, our experience would not have been the same without you!" Kevin Efros, Detroit, Michigan, USA
"Daud was an excellent guide, very knowledgeble and trustworthy. Not only did we learn the history and traditions of the local Torajan people, but through Daud we shared meals, drinks and befriended the locals. We were able to taste the PA'PIONG babi (pork cooked in bamboo tubes) and palm wine while taking part in the traditions of a Torajan funeral celebration. I would recommend Daud as a guide to anyone looking to get a closer look at Indonesian culture. You will be in good hands." Adam Ludwig

"We just had a two-day tour in Tana Toraja with Daud: we enjoyed it! Daud is a very experienced, competent, pleasant, and patient guide. The tours were well organised. We were able to see the countryside, the nature and of course the rituals and traditions of the native people. Daud's English is very good! His explanation was very clear and precise. We definitely recommend Daud as a tour guide." Wolfgang and Mirna, Germany
"Our trip was fantastic thanks to our tour guide, Daud Rapa! We just met him via our hotel Torsina. From the beginning he was joking and made us laugh. 'Just be happy, everything will be alright,' he said. The first day we visited a funeral; in not more than a second he had organised an autobus and a driver. We drove though the mountains and on the way he started to point stuff and tell about the culture and history of Toraja. We could stop when we wanted to take a photo or have a rest. Finally, somewhere high in the mountains, we stopped. 'From here it is a short walk,' Daud said. We came on a spot which was not seen by many tourists. There high on the mountain, Daud arranged an invitation to a funeral for us. We were sitting just next to the family and could see everything close. When we had questions, Daud knew the answers; he even warned us when the most bloody parts of the funeral came. We also did hiking and rafting in the beautiful environment of Tana Toraja with our new friend Daud. We would like to recommend him to all visitors, if you like free choice on what to do and what to see, if you are interested in the culture of Tana Toraja and especially if you like to have fun on your holiday: ask for Daud! We had a fantastic time in Rantepao!" Caroline en Arno de Haas, Holland